Aluminium Radiant Heat Transfer Plates
| | |
| --- | --- |
| Alloy: | 1U,2U,3U |
| Width: | 125-610mm |
| Thickness: | 0.4 0.5 0.6 0.8 1.6 mm |
| Port of Loading: | QingDao,China |
| Certificated: | ISO9001:2015 |
ALUMINUM HEAT TRANSFER PLATE DESCRIPTION:

Aluminum heat transfer plate are installed between the floor joists to provide heat transfer across the bottom of the subfloor. The round channels formed into the aluminum snugly surround the tubing and this heat transfer from the tubing with warm water through the aluminum plates greatly increases the amount of heat that is delivered and evenly distributed throughout the floor.
ALUMINUM HEAT TRANSFER PLATE SPECIFICATIONS:
Specs Channel
Thickness/mm
Width/mm
Length/mm
1 U
0.4 0.5 0.6 0.8 1.6

125 127 228 230
609 1219 2438
2 U
317 390
3 U
610
ALUMINUM HEAT TRANSFER PLATE APPLICATION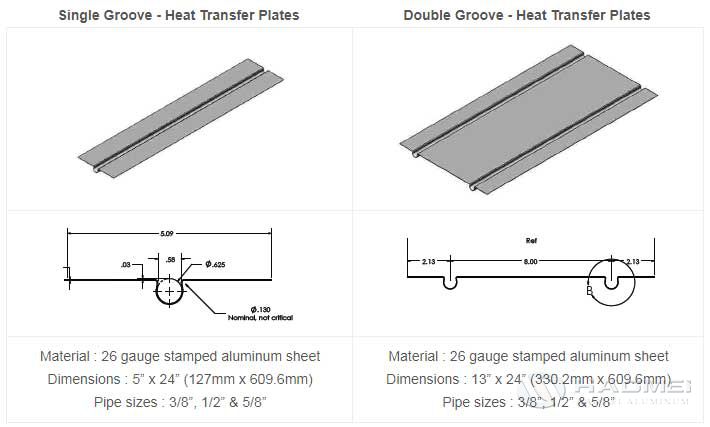 ALUMINUM HEAT TRANSFER PLATE ADVANTAGES:
Staple up without Aluminum heat transfer plate. These system will run lower than suspend tube system but hotter than plate type system due to less conductive surface.
Staple up with heat transfer plates. These system will run at a lower temperature than to the addition of aluminum fins which extend the contact surface area.
Our plates are Omega-shaped (not "V" or "U"-shaped like others) and allow to snap in PEX pipe during installation, making it much faster and easier. This channel shape offers more contact with tubing than U-shaped plates and has a better heat transfer.
Increase Radiant Floor Heating System's efficiency and response time.
Save time and labor - Omega-shaped plates allow for a 1-person installation.