Embossed Aluminum Sheet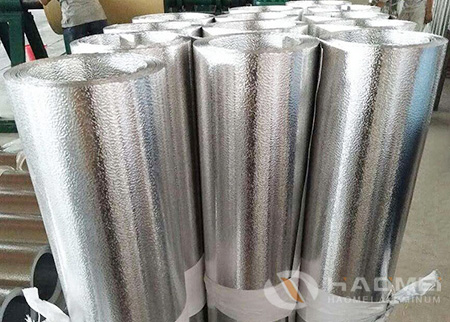 Stucco Embossed Aluminum Jacketing /Cladding is made out of embossed aluminum metal roll. The inside of the aluminum pipe jacket is coated with a poly moisture retarder that provides an exc
SPECIFICATIONS EMBOSSED ALUMINIUM SHEETS: Thickness: 0.5-3mmWidth: 300-1600mmLength: 500-8000mmMaterial (alloy): 1050, 1060, 1100, 3003, 5005, 5052, 5083, 3105,3005
EMBOSSED ALUMINUM SHEETSPECIFICATIONS
| | | | |
| --- | --- | --- | --- |
| Thickness | Width | Length | Alloy |
| 0.5-3mm | 300-1600mm | 500-8000mm | 3003, 3105, 3005, 1100 |
Embossed aluminum sheet Introduction
Embossed aluminum sheet, after the process of embossing, cutting, oxidation will form the surface with a dense layer of aluminum oxide protective film. And It has obvious below advantages such as acid-corrosion-resistance, long-lasting shine, beautiful patterns, anti-corrosion performance and stability, strong adhesion, impact resistance, non-toxic side effects, safety and environmental protection. With above charicteristics, surface of stocco embossed aluminium is clean, shiny. Besides, the electro-oxidation can effectively remove residual oil and manual handling of fingerprints.
Embossed aluminum sheet Application
Embossed aluminum sheet are usually used in refrigerators, air conditioners and refrigeration equipment, and pipe insulation, the products have good thermal conductivity, heat dissipation due to the special nature of the pattern. Such mateirals are widely used in the fields of refregerator, wine cabinet, solar panel, decorative aluminium product, linghting fixture, lighting box, sanitizer, kitchen cabinet and central air conditioning system.At present, in the refrigeration industry, the 3003 series of rust-proof aluminum coil are widely used; In pipe insulation and packaging 1000 series are widely used.
As a China-based embossed aluminum sheet and aluminum coil manufacturer and supplier, we also supply aluminium slit coil, aluminum plate, aluminum coil, aluminum sheet, aluminum strip, 5 bar aluminum tread plate, anodising aluminum sheet, etc. For more product information, please feel free to contact us.